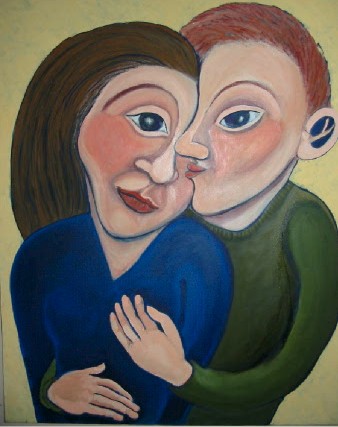 Maggie Connell
Maggie Connell is the 2013 Digital Color Artist.
Maggie has now been painting seriously for a decade and a half. Her six week exhibition, Living with Wolves, is on display at the Broken Hill Regional Art Gallery in New South Wales. The purpose of that exhibition is to create works about a fun and colorful life with dogs.
Over time, she has had varying styles. Her moving oil paintings of owls, robins, magpies and other birds are from the world and also after photos of Steve Parish and Dave Watts. Some of her earlier paintings are of happy colorful naive style people. She has also painted portraits, still life and scenery and has exhibited drawings on paper and oils on metal.
Recently, under the influence of Mark Tobey's densely structured compositions, she uses writing and symbols as a basis for watercolor paintings. She has a gallery of still life metaphors including those titled: The Fall From Grace, An Enduring Relationship, Gossip, An Integrated Group and The Third Cup of Wine. The third cup of wine drank the man.
She has formally studied drawing, printmaking, painting and sculpture. She attended Tafe in Alice Springs and for a term, at Broken Hill and created art using these media at that time.
Exhibit 2013
Exhibit 2013 is an exhibit of paintings which have passed the test of time.
They bring even more to the year 2013 than they did to the years in which they were painted.
Included are many paintings by Maggie and by Gilbert Abric.
Gilbert paints watercolors in a realistic style.His perception of searching light effects is revealed through renditions of transparent objects, reflections and snow. Other subjects that bring this out are marine and interior settings, fabric and greenhouses. And also, Lyon landscapes, monuments, people, the night, flowers and fruits. Looking at his watercolors creates a vibration in the mind.
Excellent portfolios from artists from, the Denmark, Canada, South Africa, the U.S., Portugal Turkey and Syria are shown as well.
digitalconsciousness.com/exhibit/
New Artists
Welcome to these artists, new to Digital Consciousness:


Updates
Our programs have been updated for the first time in several years.
The updates include thumbnail displays in the gallery editor and the ability for all the artists to upload short Audio Visual files.
Happy New Year 2014